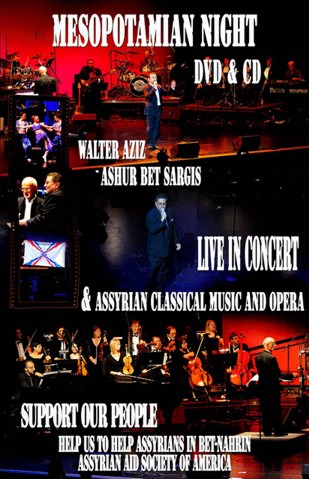 [Set includes 2 DVDs or 3 CDs]
Craton works include:
• Excerpts from Gilgamesh: An Assyrian Opera
Overture
Tablet VI: "The Bull of Heaven"
• Excerpts from Inanna: An Opera of Ancient Sumer
Aria: "I, the Lady"
Ballet: "The Huluppu Tree"
Drinking Song from beginning of Act III
Featuring Sibel Demirman, Donn Bradley, Lorraine Davis, Julie Anne Miller, Barbara Wesley, vocalists; Sarah Weaver, Joseph Adkins, David Riskin, dancers of the Central West Ballet; René Daveluy, choreographer; orchestra of the Townsend Opera Players; Chase Spruill, solo violin; Ryan Murray, cond. Performed at the Gallo Center for the Arts, Modesto, California, U.S., 23 August 2008.
---
Works by William Daniel, Nebu Issabey, and others also included, as well as additional non-classical performances by Walter Aziz, interviews, and other features.
Click on links below for more information about other works included on discs:
Click here for order information about the 3-CD set
Click here for order information about the 2-DVD set